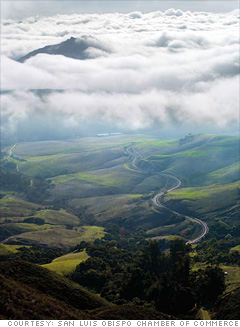 ...you can hear jazz music from the Italian restaurant on the corner as you walk down the street.
...there's a candy shop that plays Willy Wonka on loop all day, every day.
...there's a medley of college students, oldtimers, middle agers, and toddlers sharing space during Farmer's Market.
...it has amazing shopping, movie theaters, and restaurants.
...Avila Valley Barn. They sell honey sticks.
...at least one of the local beaches will have nice weather at any given time.
...it's a town that encourages personal growth and education.
...it is involved in the green revolution.
...there's cows, horses, sheep, and pigs.
...the hills are green in March.
...Perfumo Canyon.
...good hiking.
...downtown at Christmas time.
...there's only one major freeway.
...the air always seems clean.
...you will probably run into someone you know while walking downtown.
...the people are pretty.
...you're a short drive away from art galleries on the Embarcadero.
...everyone is always glowing.
...the clock tower chimes Frank Sinatra